BNE Education for sustainable development
My offers for these tasks: Conception, consulting, workshops, coaching, training, microsessions, interactive presentations - on-site or online (webinars, online trainings).
Sustainability, corporate social responsibility CSR, common good orientation, transformation are not a matter of course; they do not just fall from the sky. Rather, prerequisites must be met for people and organizations to develop in the desired direction.
The "four-field matrix" is known from various issues and topics. It is based on the insight that various conditions must be fulfilled for people to behave in a certain way.
It needs the appropriate will, ability, permission and knowledge.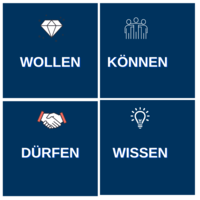 In relation to the sustainable concepts of sustainability, CSR or GWÖ, what is allowed is strongly influenced by the organizational culture (norms, rules, code of conduct); what is wanted, what is capable and what is known can be effectively influenced by impulses and measures of competence development. This is a field of activity for personnel development.
Feel free to contact me! Create the prerequisites for a successful implementation of sustainability, CSR and common good concepts.